Cannabis and Yoga Retreat - The 1st Thailand #YogaCannabisRetreat
This IS a Cannabis Education, Meditation and Conversation Yoga Retreat.
This is NOT a pot SMOKE fest. The flower is legal in Thailand, yet the intention of this retreat is to build your awareness and mindfulness skills through Yoga and Cannabis Tea and Cookie.
Yoga is an exploration of the connection between Mind & Body. Mindfulness builds on this connection. In this retreat you will explore both yoga and mindfulness to appreciate the subject of Cannabis.
Yoga and Nutritional Insights with GabeYoga, Holistic Health coach, Yoga and Thai Massage Master, Author and PodCast host, whose work has helped hundreds of people.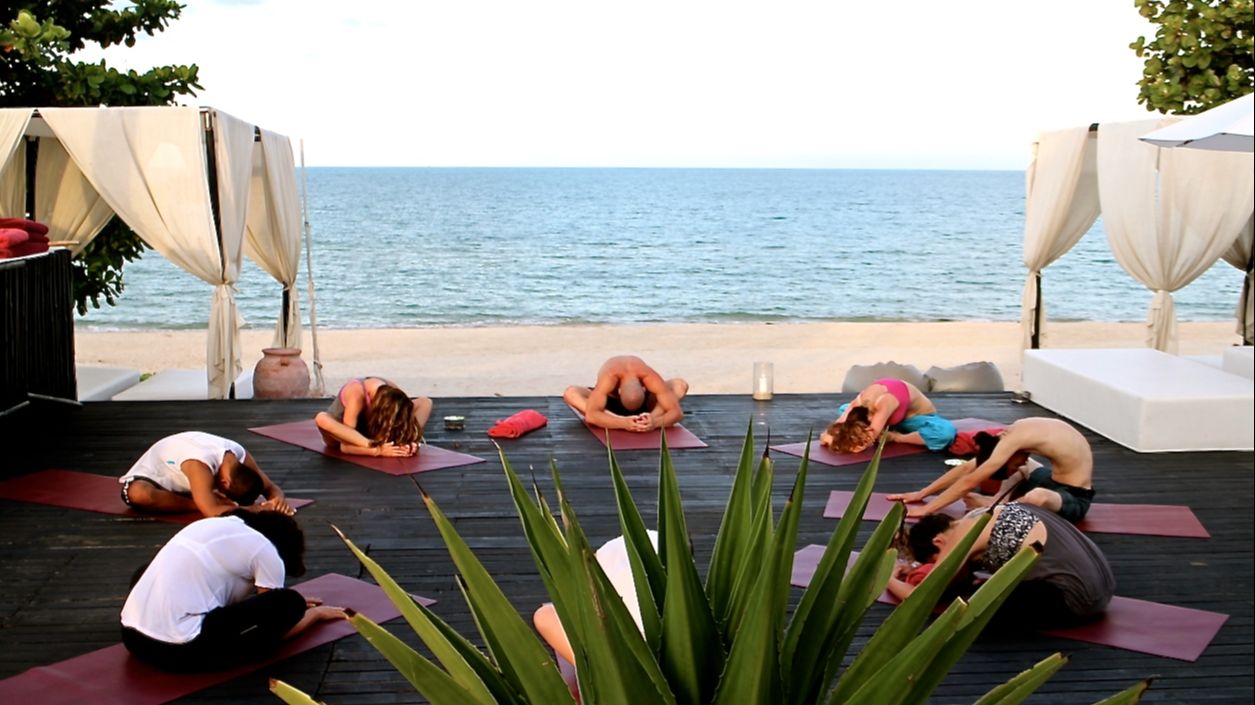 In this retreat you will explore that connection thru:
Morning BikYasa/Ashtanga mix/VinYasa influenced active type practice
Evening rooftop, sunset view, Yin yoga practice
Waterfall hike
2 Cave temple visit & meditation
Pink dolphin sighting tour (ride a local fishing boat and get really close to the dolphins)
Request Program Details
Sample View into a Daily Schedule
Your Cannabis Yoga Retreat is filled with Yoga, Nature, Excursions, and Private Time.
This schedule has been devised over a 25 years period leading retreats around the world, by a Yoga Master with with degrees in Psychology, Nutrition and Coaching.

8:00am - Green Juice (optional)
8:15am - Yoga Practice
9:30am - Breakfast
11:00am - Yoga Workshop/Lecture/Excursion
12:30pm - Personal Time/Lunch
2pm - Yoga Workshop/Lecture/Excursion
5:30pm - Yin Yoga
7pm - Yoga Documentary/Kirtan/Yoga Nidra/Free Time (with Tea and Cookie)
The excursions also offer a learning experiece.
The Waterfall hike where you can make loads of Yoga Pose selfies with Nature and Waterfall.

The 3 temple caves tour gives insight into Buddhism, Spiritual Powers, and How ideas travels from India across Asia.
Request Personal Packet
Retreat Includes
+ Local Airport pick up and return (choose between URT or NST airport code)
+ Accommodation at Aava Resort & Spa (various room type)
+ Welcome evening meal
+ All yoga, lectures and activities
+ 1 daily Tea, one Cookie/Brownie
+ Spa Treatment
+ Closing ceremony
Khanom Beach is Thailand's Secret Paradise
Over the pandemic the quiet paradise known as Khanom has been discovered by both local and international community.
Khanom Yoga director and program leader has been leading retreats and trainings here since 2012.
While Nature is abundant throughout Thailand, Khanom offers a rare sense of peace and tranquility, not found anywhere else in the world.
Whether it is the ancient temple caves, the only are with Pink Dolphins, or the clean, no traffic air, once you visit, you will forever be changed.